Featured Item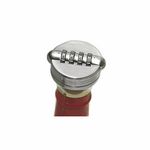 Solid Stainless Steel Combo Liquor/Wine ...
Perfect for securing premium wines and spirits. Locks up a bottle so that only the combination holder can reopen it. Instructions for using and changing the combo are included. 2 3/4" H x 2" Diameter
$14.34 - $17.58
The Richey Company
Experience counts.
Every company says that, but experience has special meaning in promotional products and imprintable sportswear:
Our 30 years in business means suppliers know us well. We frequently get breaks – on pricing and quantities – that we pass along to you. We have multiple suppliers, which gives us additional leverage to use for you.
We are hands on in assisting you in choosing unique and different items tailored to your needs and budget.
Graphic artist services are included.
Free samples available for selected products.
Our range of products assures you a quality solution, regardless of budget, for your business, school, church or other organization.
Your purchase has a 100% Satisfaction Guarantee, and we match our competitors' pricing, minus 5%.
Your orders are tracked and artwork is stored.
As a woman-owned business, we are certified as a Disadvantaged Business Enterprise (M/DBE) and Historically Underutilized Business (HUB), and will supply copies of certificates for your records, on request. We are a corporate member of the Advertising Specialty Institute.
Call the Richey Company today at 1-800-488-9429.
Testimonials
"The Richey Company goes above and beyond to help us repeatedly! Thanks!"
Diane G., Xenosoft
"Sandy could not be more helpful and so very prompt, and the artwork was awesome. Thanks for making it all happen!"
Christy White